On October 1 and 2, 2023, thanks to all of your generous gifts, The Magic Mission funded our first Spay and Neuter blitz in Chitre, Panama, in partnership with the organization, Spay Panama.
Me and my team of 3 volunteers, Michael Eisele, Dave Turnquist, and Mike Gielas traveled the 4.5 hours from Panama City to the town of Chitre on the morning of October 1. By the time we arrived around noon, Patricia Chan and her team had her team had the whole event set up.
The Spay & Neuter Assembly Line
Spay Panama uses an assembly line method, where each animal passes through 3 stations.
Station 1 – Preparation
First each animal is tagged with its owner or rescue groups information then taken to the first station. The pre surgical station is where they given a sedative. Then dogs are tattooed in the ear to show they are sterilized, and cats have one of their ears clipped. Each animal is then shaved and prepared for surgery and when they are ready, a volunteer at station 1 yells "Taxi" and another volunteer comes to carry the sleeping animal to the surgical station.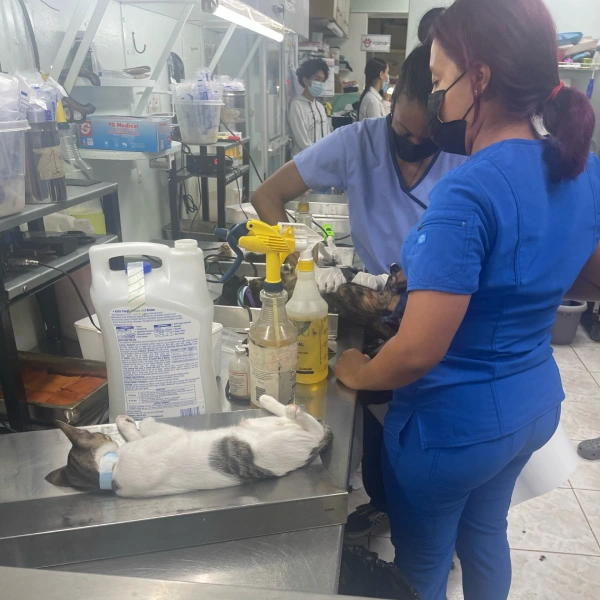 Station 2 – Surgery
There were 12 veterinarians, each at their own surgical station and the sleeping animal is taken to an open station, where the sterilization is preformed. Once again, when he is finished, the veterinarian yells "Taxi" and the animal is taken to the post op station.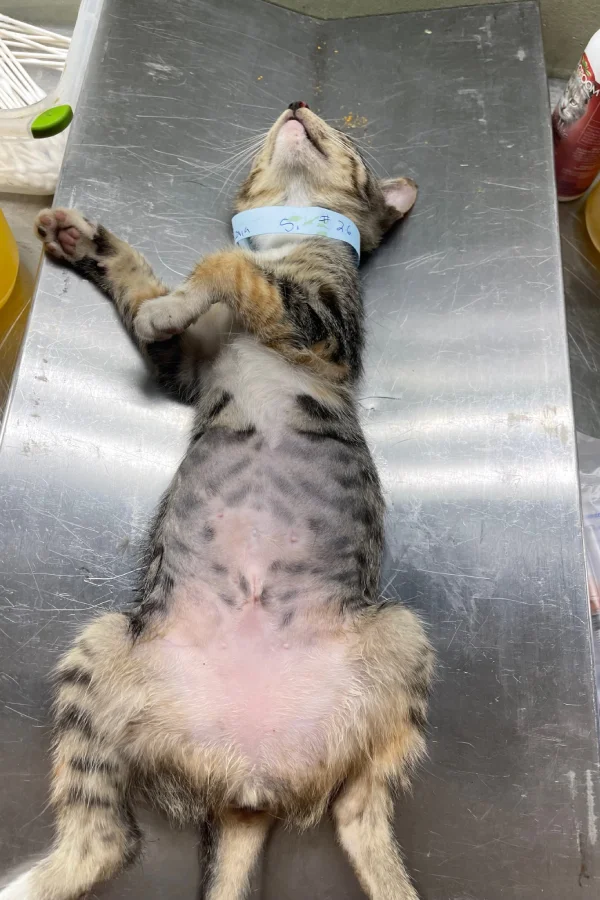 Station 3 – Post-Op
This is where the sleeping animal has its ears cleaned, is given dewormer, is given vaccinations and a flea and tick preventive. Then each animal is laid on a blanket and watched by volunteers until they begin to wake up. At that point, the person who brought the animal is called to come pick the pet or the stray up.
This is an incredibly efficient, seamless operation. There were probably at least 30 or 40 volunteers working tirelessly to keep things moving. Then, at the end, the pack up happens in about an hour, placing everything in their ancient school bus, and heading back to Panama City.
I am so impressed with this incredible group, Spay Panama, the brain child of Patricia Chan. She and her group of volunteers work every day, providing animals from all over Panama with healthcare and sterilization services, whether people can pay or not. Back in Panama City, Patricia has turned her family home into a national animal hospital, where these services are provided daily. She has worked to change laws and attitudes.
The Magic Missions second phase this year is to print thousands of The Magic Mission children's books, and get them to all of the people in Panama and the other countries we are beginning to work in, to start the attitude shift, in the way people treat companion animals in these countries.
It seems overwhelming to take on a whole section of the world, one child at a time, but this is my best idea, for now, with the funds available.
I would love to hear from you with any other ideas!
Feel free to contact me at hello@themagicmission.org.
Love,
Pebe